Spoke to my frame builder today and due to the nature of the complex bends in my design, he would have to out source the bending to a CNC bender. $800 inc materials. just for the bends :-( Not happy with that.
Might have to throw in the towel after all that work. Just don't have that kinda cash.
In the spirit of bending metal, here is a seriously BENT bike………
This bike is named Sick n Twisted, because it was built around a twisted front down tube. Peter Chumley spent two years constructing the motorcycle, which features a Harley Davidson twin-cam 1450cc motor, and a one-off frame, tank and bars.
All chassis components are built using stainless steel, which Chumley has then painted or polished to achieve the final look.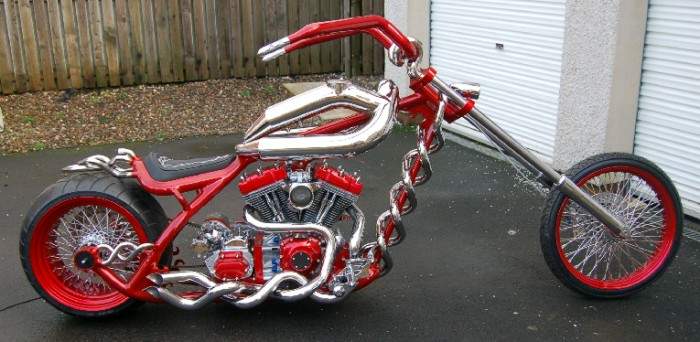 I thought maybe it was named Sick n Twisted, because it took a sick and twisted mind to like the way it looks!
Points for different, point for unique, negative score for proportions, taste and everything else.